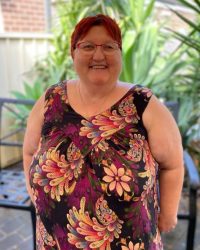 Trudi is a long-standing participant with us here at OVOC, having been with us almost since the beginning! Gaining independence in everyday life and making healthy lifestyle choices have been some of the most important goals Trudi has had since living in her SIL home and with the continued support from our valued and committed staff members, she has been able to achieve so much.
The induction process is a chance for OVOC to understand the needs of each person and who they would best suit living with, as well as the most appropriate staff allocation. A house can be many things to many people, but OVOC creates homes that are person centered and respectful of everyone's choices.
How long have you been with OVOC? Can you tell me a bit about your time with us?
I have been with OVOC for 4 years. Good staff have helped and motivated me with household skills and healthy eating and with daily living and fun activities.
Can you tell me what you think the best thing about OVOC is?

Great staff that promote independence. They encourage and support me with things I like to do such as gardening and craft activities. I also love getting out in the community and going on weekly outings.
Can you tell me about any friendships that you have made through OVOC and why this has been important to you?
I have made friendships with the ladies at my home and I love the outings that we go on with other participants and staff. We also celebrate birthdays and milestones with others. It is important for my mental health and physical wellbeing.
Has OVOC helped you in achieving any goals that have been important to you? If so, can you please tell us a little bit about it?
OVOC has helped me to take pride in my house and supported me to perhaps live independently in the future. Staff have helped me with healthy eating and weight loss which was a goal of mine. They always motivate me to do daily activities.
What do you hope OVOC is able to help you achieve in the future?
To live independently and volunteer in a women's shelter.