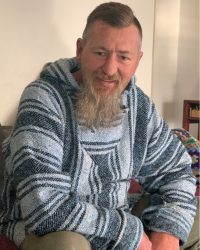 Meet Shane. Shane is one of our long-standing participants here at OVOC having been with us for approx. 1.5 years after suffering from a brain injury at the tender age of 17. Shane lives with support from (OVOC), he is learning life skills as well as finding his passion for table tennis again, after turning his back on it all the years he has been in pain.
Our Voice Our Choice gives people with disabilities their voice back. Their perseverance with encouraging all people to find their strengths again, to feel they belong in their community, to find their worth again, is extra-ordinary. Read about Shane's personal experience with OVOC below;
Can you tell us a little bit about your time with OVOC?
My lifestyle before OVOC, was unmanageable due to mental health issues and drug dependency after my accident. OVOC gave the me opportunity to be supported to live a clean life.
What do you think is the best thing about OVOC?
They care about me as a person and they do not judge me on my past. OVOC has given me the tools to be able to support myself and to improve my life. I'm very grateful that I am here.
Can you tell us about any friendships you have made through OVOC and why this has bee important to you?
I have met fellow participants that have ended up becoming friends. This is important because we all go through similar situations and we can offer support to each other.
What important goals have you been able to achieve with the support of OVOC?
Before I came to OVOC I had no contact with my family because of my lifestyle choices. OVOC has supported me to get those relationships back and to maintain them and I now have my family back in my life again.