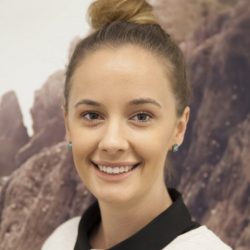 Corporate Services Coordinator
After a big shake up from leaving my long term job in a completely different industry, I soon found myself starting my new journey at OVOC. I have loved my time at OVOC and am looking forward to seeing what else my future holds here!
I started with OVOC in early March 2020 after a 7 year stint as an Account Manager in a call center. I first started at the front desk with my role mostly consisting of administration tasks but this has evolved considerably since and I now fulfill the role of Corporate Services Coordinator, this is a very diverse role and I look after a range of different things for OVOC with my role being situated in Head Office. Prior to starting here I had not worked within the NDIS industry so my journey has been extremely educational and with the help of the wonderful OVOC team my knowledge has grown immensely and I am still learning more and more each day.
I am currently studying my certificate 4 in Marketing & Communications.