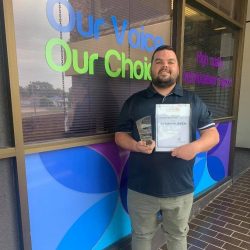 Resident Services Coordinator
Being part of an organisation that provides high quality service to residents and participants that are in the centre of all planning and supports. Having staff motivated to encourage our residents/participants achieve their goals
I started with OVOC a few years ago as a Support Worker. I really wanted to start a career path that enabled me to help others achieve their life goals and experience real life inclusion in the local community and OVOC has proven to be the perfect workplace to do this. I have been able to help people to better themselves, become confident in making their own decisions and be their voice for change when they needed me to be.
In my current role as Resident Services Coordinator I have oversight of the houses, Senior Support Workers and support staff working with our participants. I coordinate all recruitment and onboarding to ensure that we have the right people representing us and working in our houses, ensuring our staff agree and are passionate about our vision and mission is important to us here at OVOC. Another factor of my role is assisting with the transitional process to help our participants to be discharged from acute care facilities to help them achieve their goals of living within the community independently and I love that I am able to do this.
I have a certificate 4 in Community Service and am currently studying a Diploma along with many other industry specific qualifications and training. In January 2020 I was awarded Student of the Year by Reach for Training.